MERRY CHRISTMAS
Hi all! Wanted to wish you lovelies happy holidays & hope everyone had a Merry Christmas.
And as promised, here's an update from my whimsical Christmas getaway in Utah! I spent it at the Stein Eriksen Lodge in Deer Valley which was an amazing experience overall - great service, friendly and efficient staff and phenomenal views that made for the perfect Christmas getaway!
Also, I'm starting a new thing where I pick up a little souvenir or trinket if you will from each place I visit.
So from this trip, I won a little ski bronze medal for racing! :)
(In case you're wondering, yes I am drinking Baileys hot cocoa)
So much powder!
Same style, through the years
Before I get to sharing pictures of the Lodge, I have to talk about my OOTD (outfit of the day) because it's my plaid shirt that I've kept throughout the years - so it's safe to say that this is one of - if not, my all-time favorite plaid shirt from PAIGE. I don't remember where exactly I got my shirt from, but I know they sell it in Nordstrom so here's the link to shop or click on the pics to shop this shirt!
December 2016 in Utah
December 2015 in Utah
Okay, now onto pictures of the lodge!
The view outside the lodge I was staying at and the walkway to the suite!
CHRISTMAS
IN DEER VALLEY
Fun fact: Park City's sister city is Courchevel, France,
which is another ski resort that I've been to (see below for pictures).
CHEVAL BLANC,
COURCHEVEL

1850
DEER VALLEY, UT
But, now that I've veered off topic, let me tell you about Deer Valley. It has THE most beautiful resorts. This December, I'm staying at the Stein Eriksen Lodge. Last winter, I stayed at the Montage. Both phenomenal luxury resorts with top-notch service and beautiful accommodation. The Montage does offer a wider variety of fine dining options and grander rooms - if you will, whereas the Stein Eriksen Lodge offers a more home-y, warm and cozy feel suitable for large family gatherings. Both definitely have a certain charm and appeal that's undeniable - it just depends on what exactly it is that you're looking for!
The Lodge has an authentic cabin-like feel, and it does offer a ski-in ski-out option! It prides itself on offering a "home away from home" feel - allowing families to come celebrate the holidays in a festive, family fashion AND in a magical winter wonderland.
Do you want to build a snowman? Come on lets go and play!
(Guilty of watching FROZEN this Christmas holiday)
Some of my favorite parts from the movie: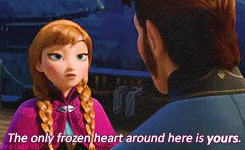 Okay back to the Stein Eriksen Lodge! They have awesome fitness facilities, a heated outdoor pool and hot tub, and a five-star spa. And wait for the best part - I was lucky enough to stay in a suite that has its own personal hot tub! How cool is that? Alright, alright, well I won't go on any longer - I'll just show you guys some pictures instead so you can see for yourself! (Sorry no pictures of the gym - as you probably could have guessed, I did not workout over the break - whoops!)
I was in the hot tub for a good hour, and yes, when I got out it was freezing! -14 °C to be precise (or 7 °F for those who haven't adopted the metric system). But the hot tub on the private deck was probably the coolest thing about the room!
This isn't a real deer but I have seen some real life Bambi here in UT!
Like this little guy and the one behind him - literally deer in headlights!!
But that's enough about deers for now.
Hope everyone had a wonderful Christmas holiday
and it's right about that time to start making resolutions for the new year!
2017 is only 5 days away people!
Stay tuned for my next post on my Christmas prezzies and what resolutions are in store for the new year :)
xoxo